Ash creatures as races
After a time away I had come back to playing Morroblivion and had been enjoying myself immensely. Among a few other things that bothered me, I singled out the side by side use of ash creature enemies with ash race enemies, and set out to change it. Here is my mod, which removes the ash creature enemies from your game and replaces them with just the ash race versions. It will also restore the ash ghoul robes, with the added bonus of them being playable, as well as restoring the ash slave/zombie loincloth, the iron collar for ash slaves, and all creature sound effects with newly generated .LIP files. It requires nothing but a default Morroblivion install of the latest version, and should be compatible with most current Morroblivion mods. Make sure to only use this with a new save, if you don't any of the ash ghoul Dagoth's you've killed will re-appear.
As this is my first mod for public use, I do appreciate bug reports, offers of help, and any relevant resources you may find and bring to my attention. Also, if you enjoy the mod, comment, I enjoy hearing from you.
Remember that the texture for the robe is not included in the mod, it comes with stock Morroblivion.
This mod has been cleaned with TES4Edit.
As of V1.1:Ash slaves have had their iron collar restored. The male model for the ash ghoul robe has had a very obvious seam fixed, as well as a few safety optimizations. Ash zombies 6 to 10 have had minor edits.
As of V1.2: Ash ghouls now share the ash vampire leg and foot texture to avoid bandaged feet and legs which they did not have in Morrowind. Ash ghouls, slaves, vampires, and zombies, now use their original Morrowind sound effects (Roar, moan, and scream.) randomly in combat. Newly generated .LIP files are included so that their mouths move properly.
As of V1.3: Ash races have had minor edits to facegen values to make them look more like the Dunmer they used to be. Ash slave/zombie loincloth has been restored. Ash slaves and ash ghouls have had their class and combat styles updated to something more appropriate in an attempt to stop some strange combat behavior and make them more dangerous when using their spells.
As of V1.4: I have made various tweaks to the Dagoths facegen values to make each look slightly unique when compared to another. Dagoth Fovon and the "soul ash ghoul" have been converted to use the race equivalents, marking the last ash creatures requiring conversion until I find a resource for the ash vampire headdress and loincloth. I have placed all ash ghouls in one race entry, as there were previously two for unknown reasons. V.54 master.
Latest version: Now compatible with the V58 master file. Finally fixes ash ghouls murdering dreamers, as well as their habit of looting weapons to attack the player with. Further adjusts facegen values to avoid red-faced ash ghouls. Adds leveled spells to ash ghouls and mages. Adds leveled maces to ash zombies. Slight adjustment to robe mesh. I would suggest that those of you who use Wrye Bash tag this mod with the Delev tag, otherwise the creature versions of the ash ghouls will find their way back into your levelled lists.
DOWNLOAD Latest version:
Ash creatures as races for Roberts male body V5
SCREENSHOTS:
(The weapon Dagoth Velos is swinging at me is the sixth house bell hammer, now that he is a race based enemy he compulsively loots it and uses it against me (Fixed in the latest version.), I have home-brewed my own edited ash ghouls so mine will look different than yours, don't worry, the mod does not include that. The Dunmer in the second screenshot is wearing an Ash Ghoul Robe looted from Dagoth Velos. He is also wearing the updated robe model, if you compare him to Dagoth Velos you can see the seam that was fixed.)
In this version all creatures, with the of the ash vampires, are replaced. In future versions I hope to locate a resource for the ash vampire headdress and the ash vampire loincloth.
Thanks to pjjkp for allowing others to use his ebony collar mesh.
Thanks to qwertyasdfgh for being helpful enough to check my work and explain a few things.
Sun, 07/22/2012 - 22:43
#3
The robe?
The robe? Hell yeah! Unless its specifically requested otherwise, that is. Heres some updated images with seam reduction on the arms and assorted tweaks. This is as close to the original as I can come.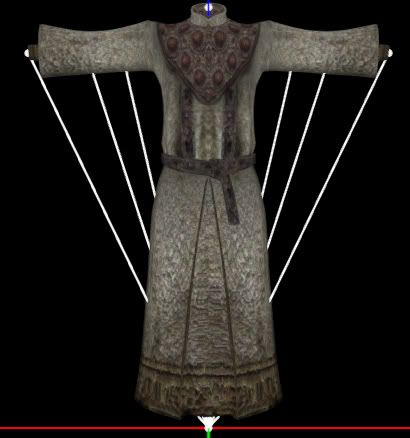 I want to point out that the mesh and texture are stock morroblivion (Or eloths overhaul, not sure.) all that I did was edit the UV and which texture the mesh uses. Same applies for the ground mesh and upcoming female mesh.