We've done it! Here's the release of Morroblivion in Tamriel, a mod made for Morroblivion that allows you, yes you, to travel on foot from Cyrodiil to the Vvardenfell of Morroblivion! (See map)
Pictures of mournhold found here.
Check the bottom of this thread to see how we're currently trying to improve it. (Like matching the your place in the two worlds more closely).
And yes, you walk North East over the mountains by Cheydenhall, over the heightmap of mainland morrowind, swim in the Inner Sea, hit a load screen when you get close to Vvardenfell, find yourself still in the sea, and swim to Seyda Neen in Morroblivion. You can enter and leave from any side, in either worldspace.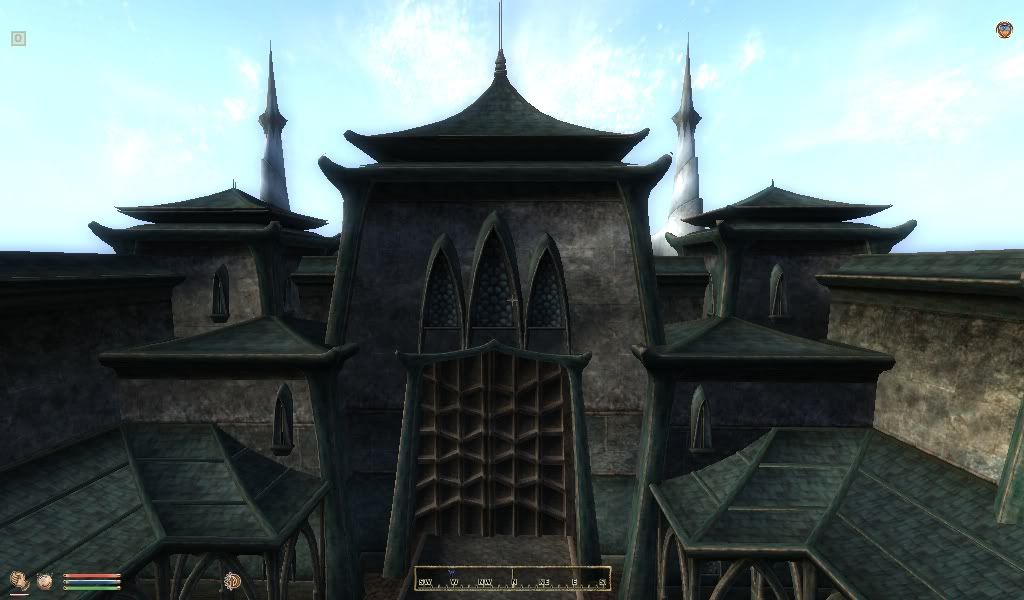 ---------------------------------------------------------------------------------------------------------------------
Long Description:
This mod allows you to walk and swim, or fast travel, from Cyrodiil to the Vvardenfell of Morroblivion. You can enter and leave from any side, in either world space.
I DO NOT TAKE CREDIT FOR THE GREAT WORK DONE ON 'MORROBLIVION' AND 'UNDER THE SIGN OF THE DRAGON TAMRIEL HEIGHTMAPS'.
How cool would it be if you could travel on foot/ horse to Morrowind? How cool would it be if you could walk say, from Cheydinhal, over the Morrowind hieghtmap, swim the channel, and arrive in Vvardenfell? How cool would it be to pop open your map and fast travel from Anvil straight to Balmora or Sadrith Mora? I usually swim to Solstheim instead of taking a boat my first trip (and then map fast travel from then on). It's cool to see it connected to Vvardenfell; it roots the game more in that world.
This mod does just that. Walk north east out of Cheydinhal. Keep walking. Over the mountains and through the Silgrad Tower area. Then into the Inner Sea, and BAM, you hit a load screen, right there in the water. BAM. You seem to be in the same place, but something feels different. You keep swimming north east and arrive in Seyda Neen. It's the living breathing Seyda Neen of Morroblivion. Congratulations, you just traveled all the way from Cyrodiil to Vvardenfell, on foot! And if that isn't enough, turn around and make the journey right back, or pass through Vvardenfell and keep traveling west. After that, you can fast travel from Tamriel, straight in to almost any of the main cities of Vvardenfell that you've found during your stay in Vvardenfell. (You will see two load screens, of course).
Basically, in techno-speak: Morroblivion's Vvardenfell (the island Morrowind took place on) is in its own world space, called 'wrldmorrowind'. When your in Cyrodiil, or walking around on the cool Tamriel Heightmaps, you're in the world space called 'tamriel'. When you get so close to the heightmap of Vvardenfell in the Tamriel world space, this mod teleports you to the equivalent area in the Morroblivion world space. And vice-versa. This allows you to be able to walk to and from Morroblivion's Morrowind, without moving the whole thing into another world space, which would cause countless problems.
The fast travel icons are just fast travel icons. They send you to a place in Tamriel that is lined up with that city in Morrowind. Then the script snatches you up and moves you to the Morrowind city. When you fast travel you'll load once, quickly see a glimpse of the Vvardenfell in Tamriel LOD, and then hit a second load screen as you move into Morrowind.
OPTIONAL MAP:
See Images. This optional file changes the Morroblivion world map so that you can see the land surrounding Vvardenfell. It combines the Standard map from my HD Morroblivion Maps (http://www.tesnexus.com/downloads/file.php?id=38914) and Kiwi Hawk's Tamriel Map (http://www.tesnexus.com/downloads/file.php?id=30875). It includes a texture file and an esp. It is the same quality as my Standard map, and should be used instead of my other map mods (because whichever map mod loads last will overwrite the others.) It is compatible with Dynamic Map.
--------------------------------------------------------------------------------------------
TESTING GPS:
The Morroblivion in Tamriel GPS mod is for testing. It's independent of the main file and can be run with or without it. When run it gives you a GPS spell. When cast the spell tells you the players x, and y world positions in both Tamriel and Wrldmorrowind. It also allows you to teleport to those coordinates in the other world space. This is really nice for testing purposes and diagnostics. (It's how I made the fast travel icons.
Please contact me with any ideas you have to improve the mod or any bugs you find that can be directly traced to this mod. Thanks!
--------------------------------------------------------------------------------------------
INSTALLATION:
Have a working copy of Morroblivion. Make sure Tamriel Heightmap is installed. OBSE is used to make sure the weather doesn't change when you change worldspaces. Check the boxes for 'Tamriel.esp', 'Morrowind_ob.esm',  and 'Dynamic Map.esp' if you're using it. (If not make sure you have Kiwi Hawk's map installed!) Then Check the box for this mod, 'AK-Morroblivion in Tamriel.esp' and if you're using it "AK- Mournhold in Tamriel.esp".
Now, if you don't install Dynamic Map or Kiwi Hawks Tamriel Ingame Map (which is an optional file on the Tamriel Heightmaps' page), then when you leave Cyrodiil you'll just be off the world map and have no idea where you are. (Everything works fine if you can manage without a good worldmap, or have another world map that shows your location). I couldn't get Kiwi Hawk's map to work as a standalone, but Dynamic map features his map, and I got it to work through that. I highly recommend that.
Then, fire up that good ole game and walk north east. Go to Vvardenfell in the game, and you'll end up in the Morrowind we know and love. WOOT!
Fast Travel Icons:
You initially won't see any fast travel icons in Tamriel. This is to prevent people from traveling to cities they haven't found yet. To get them to show up, visit the city in Morrowind. You'll get a message saying "map marker added". The easiest way to do this is to fast travel to your cities in Morrowind. Then, next time you're in Tamriel you'll see your icons and be able to fast travel back to that city.
Ps. Please feel free to ask me any questions you have in the comments section, and if this made you smile, then endorse, or do something nice for someone you don't know, or for someone you do know.
UPDATING:
(This is a change list of sorts. Skip it unless you're interested).
Going from the Gamma to the Beta, I made some huge improvements. I put in a hefty number of hours aligning the coordinate system, incorporating 2 scaling systems and molding the shape of the teleport zones to more accurately surround the islands. I also worked to annotate the script 'akdistancetravelquestscript' so that if people wanted to look at it, it would make more sense.
In Gamma it was very easy to teleport onto land. In Beta you should always go from water to water. (Which is what you want, because it lends to a more seamless transition, instead of going from ocean to suddenly standing on a mountain...)
Shortly after releasing Beta, I realized I had created a teleport loop in one area, and figured out how to fix the zrot problem, so I went back to work, messed up, added another box, figured something out, etc. In the end I'm really happy with Beta2.
In Beta2 you can might be able to touch some outer banks of land around the Northern part of the map, and maybe touch Solstheim's outer banks, but other than that it should be near impossible to teleport and land on land, unless you're really trying to do so.
The new Main file adds fast travel icons to almost all of the main Morrowind cities. (Around 21 functioning icons) I didn't bother making multiple icons for groups of cities bunched together. EX: I just did the Sadrith Mora icon for: Sadrith Mora, Wolverine Hall, Tel Aruhn, and Tel Fyr. It was a lot of work, but I'm really happy with it!
Next I'm considering try to make some Border Icons so that you can fast travel out of Morrowind.
--------------------------------------------------------------------------------------------
BUGS, INCOMPATABILITY, PROBLEMS, CONTAGIOUS DISEASES, ETC.
Occasionally the second load screen will come too quickly and the game may freeze on the load screen. Just another reason why it's always smart to save often, especially when you're changing cells TWICE in a short period of time.
The Fast travel icons don't perfectly match up with the map. This is because the icons line up with the icons in Morrowind. The maps are different scales and at this point there's nothing I can do about it.
Morroblivion doesn't have lod from the Tamriel mod, so as you swim away from Vvardenfell it many times looks like you're going nowhere. If you persevere however, you'll freeze for a second, hit a load screen, and then be able to see both where you came from, and where you're going. :D
Also, at this point it seems like not all of the cells in Morroblivion that should have water actually do. Please pretend. There are some places that you'll swim to in the air. It happens if you swim from Vvardenfell to Solstheim. Don't worry, just keep swimming…..
--------------------------------------------------------------------------------------------
REQUIREMENTS:
Morroblivion:
Tamriel Heightmap:
http://www.tesnexus.com/downloads/file.php?id=27235
OBSE (To keep weather the same):
http://www.tesnexus.com/downloads/file.php?id=37952
Dynamic Map (not required, but HIGHLY suggested):
http://www.tesnexus.com/downloads/file.php?id=35969