Below are detailed installation instructions for the latest version of Morroblivion.
If you're an experienced mod user, chances are you won't need it.
However, if you never installed mods for Oblivion before, I strongly suggest you carefully read instructions below, along with any linked articles.
---
Part I. Prerequisites
(All of these are listed in the Project Release thread, but I'll also repeat it here)
1) You must have Oblivion with Shivering Isles expansion and Morrowind with Tribunal and Bloodmoon expansions installed on your computer. It doesn't matter whether you use disk or Steam versions of these games.
2) OBSE
Installation instructions for OBSE are in it's readme file.
3) Ely's Universal Silent Voice
---
Part II. Installing Morroblivion master file
1) Download the master file Installer from Project Release thread.

2) Unpack the .exe file from the archive and run it. Click 'Next'.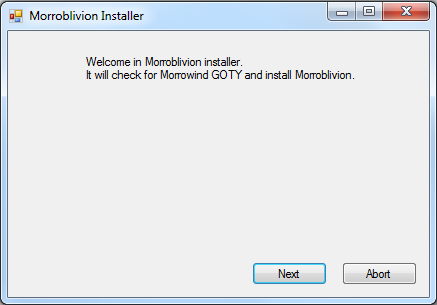 3) Specify the paths for Morrowind and Oblivion, click 'Next' and then 'Install'.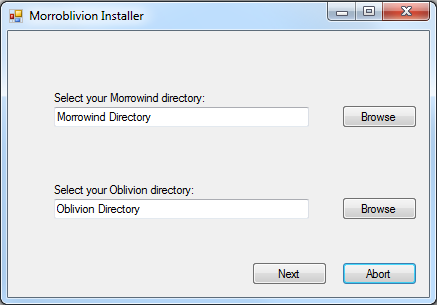 4) You'll see 'Success' message and there now should be Morrowind_ob.esm file in your 'Oblivion/Data' folder.
---
Part III. Installing the resources and optional mods
Download the resources from Project Release thread. From here there are 2 ways: using Wrye Bash and manually.

Part IIIa. Installing with Wrye Bash. (this method is recommended)
1) Download and install Wrye Bash. It's a multifunctional mod manager and is considered the best tool to control your modded Oblivion installation.
2) Launch it and go to the Installers tab to initialize installers for the first time.


3) WB will create 'Oblivion Mods' folder on the same level as your 'Oblivion' folder.
(e.g. if you have Oblivion installed in C:\Oblivion, it will be C:\Oblivion Mods)
Place the resource archive you downloaded earlier into Oblivion Mods/Bash Installers folder.
4) Go to Installers tab in Wrye Bash again.
If you followed previous step right, you'll see Morroblivion archive on the left in the package list. Select it and you'll see a list of sub-packages in the middle of the screen.
Tick '00 Core' (always) and any of the optional sub-packages (they are prefixed with 01) you like.
Detailed description on what optional mods do can be found in Project Release thread.



Then right-click on Morroblivion archive and select 'Install'.


Part IIIb. Installing resources manually.
If for some reason you can't or don't want to use Wrye Bash, you can unpack the resource archive yourself.

1) Open Morroblivion resource archive. You'll see several folders inside it, named as follows:
   00 Core
   01 Better Map
   ...
   01 Voiced Conversation

2) Open '00 Core' folder and unpack all of its contents (several files and folders) into Oblivion/Data.

3) Repeat step 2 for all optional mods you would like to install.
---
Part IV. Setting up load order
You can set up load order from any mod manager program for Oblivion, but not from default Oblivion Launcher. As we already used Wrye Bash in Part III there's no reason not to use it now.
Important part: Morrowind_ob.esm should always be loaded right after Oblivion.esm, so your load order should look something like this:
   Oblivion.esm
   Morrowind_ob.esm
   ... any other esm\esp files
Load order for other Morroblivion esp's is not that important. Project Release thread contains guidelines for all of the files.
Also, don't forget to activate all Morroblivion esp files (by clicking on a tickbox near the file on the left in Wrye Bash)
---
Well, that's it really. 
Now lanch the game and have fun in Morroblivion :)